The best LED Ring light – The F & V Z720
The F&V Z720 is a bi-colour ring light with great colour rendition. It scores over 95± 1 on the TLCI & CRI indexes! The colour temperature range is between 3200ºk & 5600ºk & it is fully dimmable. The bank of LED's are divided into 4 quadrant zones, each of which can be controlled separately, for both brightness and colour temperature. This allows for some unique lighting effects.
With a centre opening of 290mm, the benefit of the Z720's large size means that, not only will it work with the largest  lenses, but also wraps light around the subjects face with even, beautiful illumination, creating great effects in the subject eyes. The Z720 was built with the professional cinematographer in mind. Industry standard mounting options will allow it to be used with both 19mm & 15mm bars.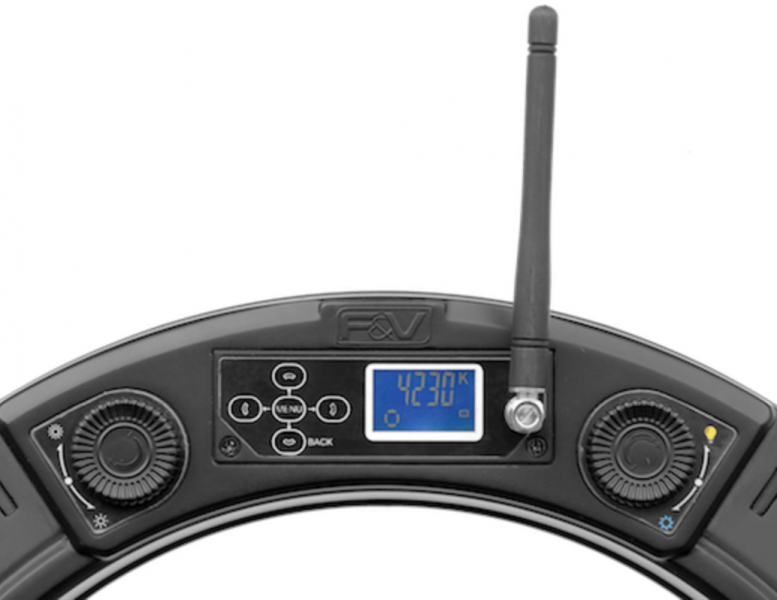 Its powered by two small NP-F Li-ion batteries which clip on the back. The Z720 can run for up to 1.5 hours on full power. You can also power the light from a D-tap battery using the cable. Another great feature is the built in wi-fi module. This allows the user to control both intensity & colour temperature from your phone or dedicated wifi remote. You can even save scenes for easy recall.
We have the F&V Z720 in stock & available for hire.
The Z720 comes with the following accessories
(1) x Milk Diffusion Filter
(1) x Frost Diffusion Filter
(1) x 15mm LWS / 19mm Studio 2-in-1 Rail Mount
(1) x 5/8″ Mount
(1) x D-Tap Power Cable
(1) x Carry Bag
(1) x Wifi Module (Installed)
(2) x NP-F Li-ion batteries
(1) x battery charger
Here are the full specs
Correlated Color Temperature: 3200K~5600K ±150K
Illumination (Lux@1m): 2746 lx (D:1505 lx, T:1241 lx)
Beam Angle: 60º
TLCI:95 ± 1.0
Color Rendering Index (Ra):95 ± 1.0
Power Variation: 0-100%
Power Supply: 2* Sony NP-F Battery Plate / DC2.5 Jack
Inside Diameter: 290mm